Peyragudes ski resort
Image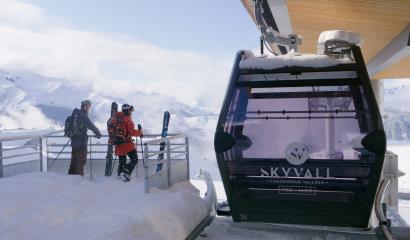 A 4-season resort with a dominant ski area
Majestically dominating the Louron valley at an altitude of 1600m, the resort of Pyrénées2vallées - Peyragudes is located between the villages of Peyresourde and Agudes. With its 50 ski slopes catering for all levels, its 2 snowparks and its spa on the snowfront, you will take home some wonderful mountain memories from Peyragudes!
Peyragudes, a resort linked to the Louron valley by Skyvall

Who said the mountains were difficult to access? Since the summer of 2019, the Skyvall valley lift links the emblematic village of Loudenvielle in the Louron valley (900m) to the foot of the slopes and residences of Peyragudes (1600m) on the Peyresourde side. It allows the valley to considerably reduce its carbon footprint. Summer and winter alike, practice your favourite resort activities on dedicated altitude trails. With the mountain bike, paragliding or scooter passes, take your equipment with you and enjoy Skyvall all season long at a great price.
If your accommodation is in the hamlet of Balestas, a few hundred metres from the foot of the Peyresourde slopes, a shuttle bus will take you there without tiring you out and without obliging you to use the car again during your stay.
The reference in alpine skiing in the Louron valley
Express all your dreams of skiing with 60km of slopes spread over two sides up to 2400m altitude. Beginners are pampered with 2 dedicated areas to learn skiing or snowboarding serenely, away from experienced riders. For experts, 17 red runs, 4 black runs and a dedicated snowpark are on the menu. Whatever your level or style of skiing, access the slopes at full speed with 18 high-performance lifts, including 4 detachable chairlifts. With its high-quality natural snow cover, the resort of Peyragudes guarantees you optimal snow conditions all season long with 250 snow guns covering 50% of the domain.
Image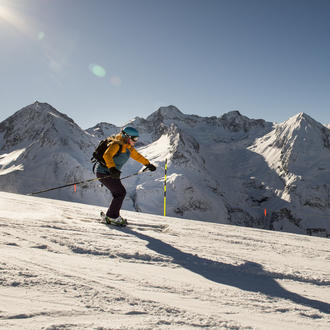 UN ROOFTOP SUR L'ALTIBAR 007
En guise de clin d'œil au passage de James Bond à Peyragudes, l'Altibar 007 prend place ponctuellement à l'intersection des versants Agudes/Peyresourde au poste des Cimes. Avec ses transats et son DJ bar extérieur, l'Altibar 007 s'adapte à la météo avec un bar éphémère ouvert en priorité les week-ends et tous les jours de vacances scolaires. Cette année, l'Altibar 007 s'équipe d'un rooftop, un véritable toit terrasse pour dominer encore plus la Vallée du Louron et profiter d'un superbe panorama tout en dégustant une bière, un coca, un cocktail ou quelques gourmandises, le tout sur un transat et sous une couverture mise à disposition. Un moment de pose sur les pistes à vivre en famille ou avec des amis avant de repartir skier plein d'énergie !
Image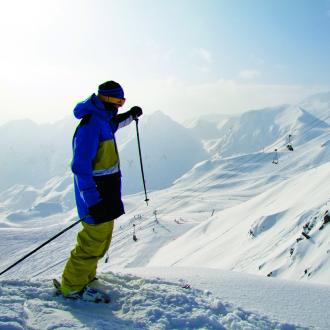 Mythical ski slopes at high altitude
Pyrénées2vallées - Peyragudes also has atypical ski slopes to do absolutely! Discover the immaculate setting of the vallée blanche for a mythical descent away from the crowds. This trail takes you on a 5km long magical trip. The first few meters set the tone with a superb view of the Arboust valley. You then enter a real white paradise for a one-on-one session with an impeccable red slope. At the end of the descent, a free shuttle bus will take you back to the foot of the Agudes slopes. Don't miss the new "007" slope, a pretty blue 2760m long with a panoramic view of the resort and the Louron valley. The track ends directly at the station, very close to Altiport 007 which was used as a film location for "Tomorrow Never Dies" in 1997!
Image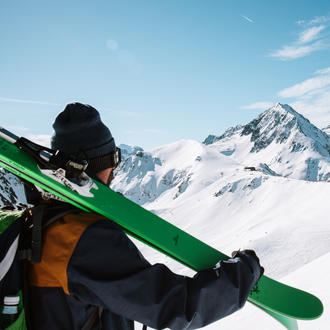 The benefits of Pyrenean thermal waters
Downstream from Peyragudes, on the shores of the sublime artificial lake of Génos-Loudenvielle, the Balnéa spa offers you a well-deserved moment of relaxation to enjoy the benefits of the Pyrenean thermal waters. Recharge your batteries in the spas, hammam, indoor and outdoor baths with an impressive view of the peaks of the Louron valley. Looking for a wellness break right after skiing? The Spassio centre welcomes you to the foot of the Peyragudes slopes with a swimming pool, hammam, sauna and massage area. You leave completely zen, relaxed, with a smile on your face.
Image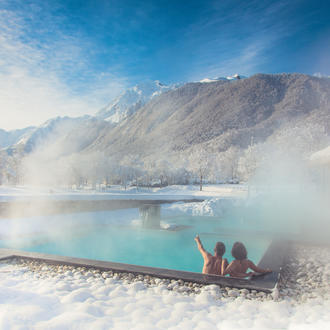 Peyragudes, the meeting place for freestyle skiing
Two snowparks await you on the Peyresourde side to enjoy jumps, moguls, tables and other tricks! The Snowpark de la Flamme and its dedicated 4-seater chairlift will be perfect for experienced riders who want to exceed their limits. Fly through the air on more than 300m of altitude difference and admire a superb panoramic view of the resort of Peyragudes and the Louron valley. If you've never been in a snowpark before, experience your first freestyle sensations at 2000m in the Family park. Take a break in its high-altitude restaurant and admire the feats of your children or friends. With its dedicated ski lift, redo the Family Park trail over and over again without waiting! For a big dose of family laughter, head for the Funslope playground. Moguls, jumps, banked turns and snow tunnels... have a good time with these modules adapted to all ages. Also discover "ski movie", a mini-slalom filmed and timed. Then show the world your achievements with the downloadable online video!
Image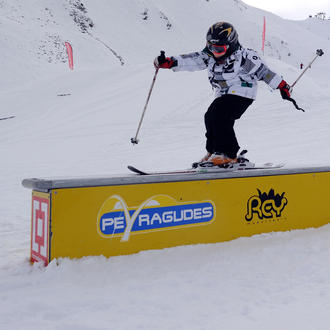 Ski with the trackers at dawn
Early in the morning, with a hot chocolate in your hand while looking at the summits, you dream of being alone on the slopes just groomed with the sun as your only companion? Put on your warm clothes and accompany the trackers in their mission to secure the slopes of Peyragudes. You will have the privilege of making the first traces of the day!
Image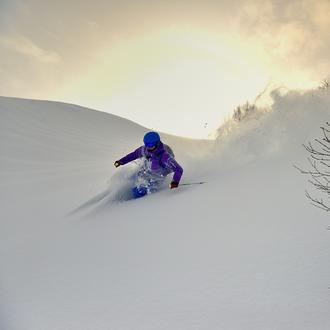 The environment of Peyragudes, everything for a quality holiday:

Choosing Peyragudes for your skiing or summer holidays also means enjoying a stay in a resort close to everything. You have the possibility of passing through Luchon and the Agudes slope to discover the neighbouring department of Haute-Garonne. The Louron valley and its activities await you for a successful family holiday! In winter? Discover the village of Loudenvielle under the snow or try sled dogs. In summer? Swimming, paddle and canoeing on the lake of Génos-loudenvielle! And whatever the season, Balnéa will open its baths for a moment of relaxation in the heart of the Pyrenees, always with a breathtaking view.
Image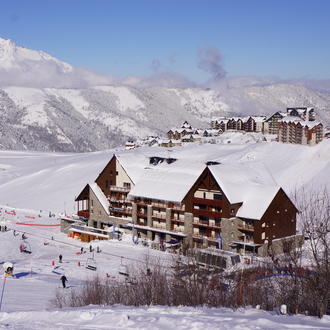 A wide choice of accommodation for your stay: 

The resort and its surroundings offer a wide range of accommodation options, whatever your number and wishes. If you are looking for a flat at the foot of the slopes to make the most of your ski holiday, the resorts of Peyresourde and Les Agudes offer a wide choice of rental accommodation. On both sides of the slopes you will find a number of restaurants, bars and shops to suit your needs.
Only a few hundred metres from the lifts on the Peyresourde side, the hamlet of Balestas offers more flexibility in the choice of accommodation. Houses and chalets are available for rent to suit the needs of large families and/or groups, in addition to flat accommodation. A shuttle bus will take you to the foot of the slopes without tiring you out or requiring you to use a car during your stay.
Finally, there are several villages scattered around the Col de Peyresourde. Although they are a little further away from the resorts, they also offer a good number of houses and flats for rent, often at a lower price.
Image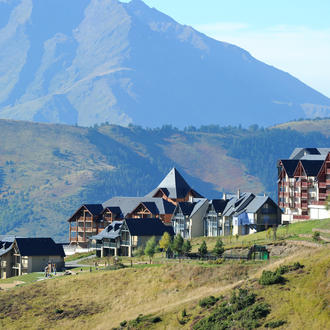 Initiate yourself to paragliding and speed-riding on the slopes of Peyragudes
If the earth is not enough for you... take flight! Treat yourself to a paragliding experience in the Pyrenees with a qualified instructor. No dizziness here, you are comfortably seated in your harness and live a 100% enjoyable experience. After taking off on a slope in Peyragudes, you glide over the Louron valley in an idyllic setting between lakes, snow-covered peaks and stone villages.
You know paragliding, but have you ever thought of combining it with skiing? With speedriding, your sliding sensations now take place in 3 dimensions: the small sail above your head allows you to fly away for a few seconds and overcome obstacles. Combine sliding and flying for a tenfold increase in speed! Pyrénées2vallées - Peyragudes is a first choice destination for this unusual and booming activity: the resort has hosted the French Speedriding Championships several times in recent years.
Image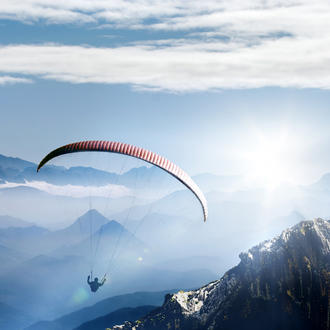 Also to be discovered
Recommended for you
Let yourself be tempted by the suggestions of Pyrénées2vallées and enjoy a life-size experience in our destination.